Although Brett may not be the "birthday type," and would gladly watch it pass by without mention, I am not that way. Especially with him. Today is a special day to me, because it is the day that ***34 years ago*** (I TOLD), the love of my life came into this world.
Beyond words I love, adore, and cherish my husband. He is my best friend, someone who listens to me talk, and talk, and talk (most of the time
. He is supportive of me, and our family unit. He is the BEST Baba (what our babies call him) EVER!
He is my gift and blessing in this life, and that is why the day of his birth is so special to me. I am glad he is here, and so thankful for who he is. I don't know what my life would be like without him.


My Brett is…

rugged and manly, yet sensitive
sensible
a lover of God
an AMAZING cook
most gorgeous husband around (who doesn't have a clue)
vagabond at heart
winner of "best fro"
linguistics lover
logical and practical
totally hot in 70′s clothes
totally NOT hot sporting the mustache he had last winter (YUCK!)
"definer of his own fashion" (HAAAA!)
nature boy
my sounding board, every second of every day.
the holder of my heart…today and always.

I love you Brett.

Saturday Brett ran a half marathon (13 miles!) in Columbus, Ohio. He and some friends trained and ran it together. They did awesome and I am so proud of him!

We went last night to Brett's Mama's for a YUMMY dinner. The kids gave their gifts then too.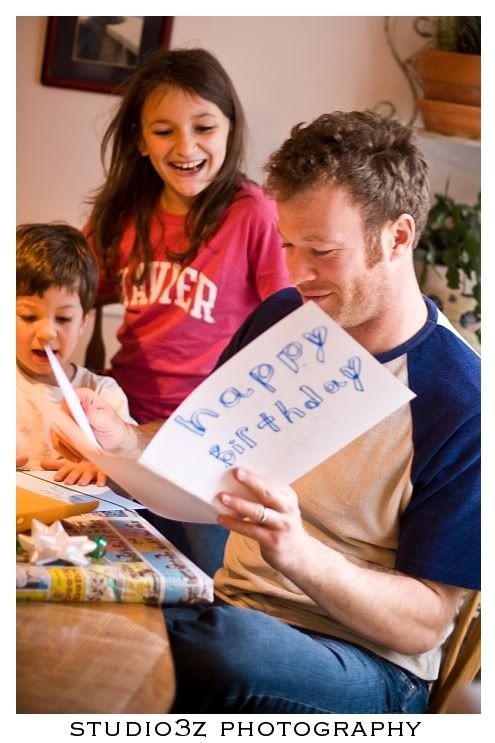 The best Baba around.

LEAVE BRETT A HAPPY BIRTHDAY WISH IN THE COMMENTS BELOW!!